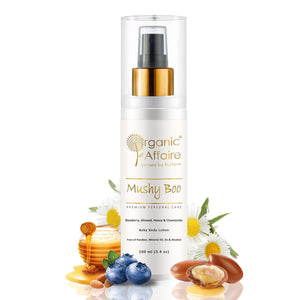 Mushy Boo (Baby Lotion)
Sale price Price Rs. 329.00 Regular price Rs. 379.00
Daily Baby Moisturizing Lotion- 100 ml (3.4 Oz)
Shea Butter, Blueberry, Honey, Almond & Chamomile
No Harsh Chemicals, No Animal Testing, Free from Mineral Oil, Alcohol, Paraben or Sulfates
Highlights
SOFT & SMOOTH BABY SKIN: Jojoba & Shea butter are known to be excellent natural moisturizers, hence can be very helpful to moisturize your kid's gentle skin. 
FOR ADULTS TOO: Being a baby safe product, it is the ideal moisturization choice for adults too, especially those having sensitive to normal skin.
ANTI-INFLAMMATORY: Chamomile & blueberry are known to be rich in antioxidants which can help with preventing baby rashes & itchiness.
Enriched with blueberry extracts, chamomile oil, organic jojoba, shea butter, honey & organic almond oil.
Description
A premium personal care, handmade organic baby body moisturization formula "Mushy Boo" 
"Mushy Boo" by Organic Affaire is a top to toe baby body lotion for kids, handcrafted with organic & natural ingredients. Infused with Honey, Chamomile essential oil & Blueberry extract known to be rich in anti-oxidants that are anecdotally recognized to help with rashes & allergies befitting the lotion for those seeking a diaper rash cream/lotion for baby. Enriched with Honey (a natural humectant), Organic Almond, Organic Jojoba & Shea butter recognized for their rich Vitamin E & natural moisturizing properties helps keep the baby's skin hydrated & nourished for long, making it an apt baby lotion for dry skin & baby lotion for winter. Designed to absorb quickly without leaving any greasy residue behind befits it as a baby lotion for summers & baby lotion for oily skin too. | Free from harsh chemicals, mineral oils, paraben, alcohol & Sls. No animal testing. | Content 1 x 100ml Baby Lotion Organic with Blueberry & Honey.
Ingredients
Lotion Base inc. Glycerin, Organic Coconut Oil, Organic Jojoba Oil, Shea Butter, Organic Almond Oil, Vanilla Oil, Honey,  Blueberry Extract & Chamomile Essential Oil. | Free From Harsh Chemicals, Paraben, Alcohol, Mineral Oils & Sls. | No Animal Testing.
Directions
Apply the required quantity on your little one & massage gently throughout. Avoid contact with eyes. | Patch test recommended | For topical use only.
Safety & Storage
Store in a cool & dry place. Patch test recommended.
Shelf life of this product is 36 months from the date of manufacturing
Patch test recommended. | For Topical Use Only. | Information given is generic i.e. not evaluated by a medical expert or a governing body & is not intended to diagnose, cure, treat or prevent any disease, please consult an expert for any medical condition.