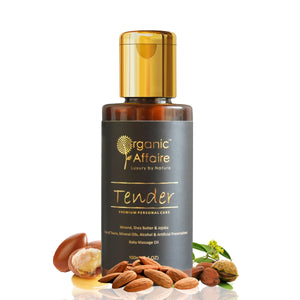 Tender (Baby Oil)
Sale price Price Rs. 479.00 Regular price Rs. 599.00
Deep Massage Baby Body Oil - 100 ml (3.4 Oz)
Almond, Shea Butter & Jojoba
No Harsh Chemicals, No Animal Testing, Free from Mineral Oil, Alcohol, Paraben or Sulfates.
Highlights
GENTLE & RICH: Organic sesame is known to be rich in linoleic, vitamin E, D & B complex can effectively help nourish your baby's skin, improve skin elasticity & act as a natural sunscreen. Jojoba is known to be a mild natural moisturizer and having antimicrobial properties that can be helpful with not only hydrating baby's skin gently but also dealing with minor skin issues like rashes, flakiness, dry skin etc.
FOR ADULTS TOO: Being a baby safe product it's an ideal moisturization choice for adults too, especially those having sensitive to normal skin. Shea butter is known to be an excellent deep moisturizer, helpful with restoring skin's natural texture, treating blemishes. Wheat germ & coconut make the oil good for skin texture as both the oils are known to have great anti-oxidants and natural skin healing properties. 
Handcrafted with organic & natural ingredients. 
Enriched with Organic Sesame Oil, Almond, Jojoba Oil, Shea Butter, Organic Aloe Vera, Organic Coconut Oil, Wheat Germ Oil. 
Description
A premium handmade organic head to toe baby nourishing deep massage oil "Tender". 
Handmade organic head to toe baby nourishing deep massage oil, crafted with certified organic & natural ingredients. Helps keep your baby's skin supple, glowing & deeply nourished, massaging also aids in improving blood circulation contributing to the overall wellbeing and healthy bone structure of a newborn or an infant. This body massage oil is free from any toxins, harsh chemicals, phthalates, alcohol, animal products, mineral oils & artificial preservatives. It is infused with a perfect mix of premium oils & kinds of butters like Shea, Sesame & Jojoba.

Ingredients
Organic sesame oil, jojoba oil, shea butter, organic aloe vera, organic coconut oil, wheat germ oil, olive oil, vitamin E, IFRA certified fragrance of green apple and Salinatural TCLS natural preservative.
Directions
Apply required quantity on your little one's body & massage gently. Natural oils tend to turn flaky in cold temperatures kindly put the bottle in warm water to retrieve consistency. Avoid contact with eyes. Patch test recommended before use. Store in a cool & dark place.
Safety & Storage
Store in a cool & dry place. Patch test recommended.
Shelf life of this product is 24 months from the date of manufacturing
Patch test recommended information given here is generic, has not been evaluated by Food and Drug Administration. This information is not intended to diagnose, cure, treat or prevent any disease, please consult an expert for any medical condition.