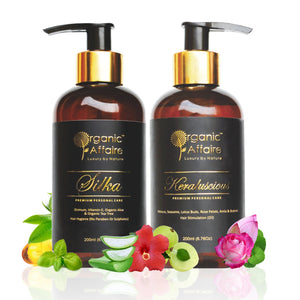 Daily Hair Care Combo – All-Hair Shampoo & Herbal Hair Oil
Sale price Price Rs. 1,258.00 Regular price Rs. 1,398.00
Contents: Pack of 2
1 x Silka - All-Hair, Aloe, Tea Tree Shampoo 200ml
1 x Keraluscious - All-Hair, Hibiscus, Aamla & Brahmi Hair Oil 200ml
Ocimum, Tea Tree, Aloe Vera, Hibiscus, Amla & Brahmi
No Harsh Chemicals, No Animal Testing, Alcohol, Paraben or Sulfates
Highlights
Shampoo: Ocimum & Tea Tree extracts in the oil known for their natural cleansing & moisturising properties help with strengthening of roots, promoting hair growth, preventing dandruff and scalp irritations, whereas mild & soothing properties of Aloe Vera & Vitamin-E ensure gentleness on the scalp, maintain scalp's ph balance, help repair damaged hair retaining hair's natural bounce, shine & silky dark texture.
Hair Oil: Infused with Hibiscus, Sesame, Aamla & Rose petals known for their natural hair nourishing properties deeply nourish the hair from follicle to tip, helpful with adding shine, volume, lustre to decaying & thinning hair resulting in thick & long curls. Whereas Neem, Brahmi & Aamla in the oil can be helpful with alleviating stress, improving sleep, prevent premature greying, scalp infections & itchiness.
For Coloured Hair Too: Being mild & gentle products both Shampoo & Hair oil can be applied to colour treated hair without issues.
Description
"Silka" A premium handmade organic hair hygiene & nourishing shampoo crafted with certified organic & natural ingredients that are believed to be naturally effective in keeping the hair clean and healthy, like Aloe Vera, Ocimum & Tea Tree oils. Organic Aloe Vera is known to be effective in soothing down scalp irritations or itchiness whereas Ocimum (Basil or Tulsi) oil present in the shampoo is known to help stimulate blood circulation thus promoting hair growth. Tea Tree oil known for its anti-dandruff properties aids with making hair smooth, shiny, bouncy and healthy.
"Keraluscious" A Premium handmade nourishing hair oil crafted with herbs, certified organic & natural ingredients "Keralucious". A hair oil infused with all that your hair & scalp needs. Enriched with Hibiscus & Aamla known to be naturally rich in fatty acids (amino) can help with revitalizing weak & fragile hair, premature greying hence retaining the natural dark colour of the hair. Rose & Sesame oils are known to have natural toning & moisturizing properties which can help with improving texture of dry & dull hair by deeply conditioning both hair & scalp, improving volume, making the hair thick, dense, frizz free and manageable. Lotus bud extracts in the oil are known to have rich hydrating effect which can contribute to the required hydration of the scalp & drying pores thus can be helpful with dryness & flakiness. Brahmi is known to have excellent antioxidant properties thus may even help alleviate stress, improve blood circulation and improving sleep.
Ingredients
Shampoo: Organic aloe Vera, Organic Essential oils of tea tree, safe surfocants revitalized with Vitamin E, Ocimum, & natural conditioner & Salinatural TCLS Natural Preservative.
Hair Oil: Lotus Buds, Sesame, Hibiscus, Amla, Brahmi, Coconut Oil, Neem, Tulsi, Lemon Peel, Rose Petals, Curry Leaves, Fenugreek, Heena & Bhringraja, Mimosa, Turmeric, Prickly Amaranth, Kshira Champa.
Directions
Shampoo: Form lather on your palm by taking the required quantity, apply gently on your scalp & hair and rinse thoroughly. Avoid contact with eyes. Patch test recommended before use.
Hair Oil: Apply evenly with a cotton swab to the roots of your hair, massage the scalp gently, let the hair be soaked in the oil overnight & rinse thoroughly next morning. Rinse using Silka shampoo for best results. Avoid contact with eyes. Patch test recommended before use.
Safety & Storage Information
Store in a cool & dry place. Not to be eaten or swollen, patch test recommended, avoid contact with eyes.
Shelf life of this product is 24 months from the date of manufacturing
Patch test recommended information given here is generic, has not been evaluated by Food and Drug Administration. This information is not intended to diagnose, cure, treat or prevent any disease, please consult an expert for any medical condition. 

Customer Reviews
08/30/2021
Rahul C.

India
Value for money!
I anyways use this oil and shampoo but use to order individually, such combo's were long awaited, they anyways are priced less than single products topped with rewards and discount code in their offers section saved me around 15% :) keep showering more discounts hehehe good work!