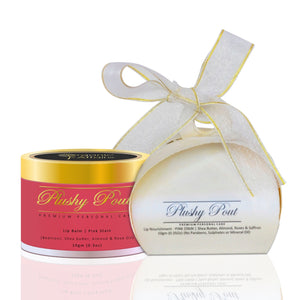 Tinted Beetroot Lip Balm (Plushy Pout-Pink)
Sale price Price Rs. 325.00 Regular price Rs. 579.00
LIP BALM - PINK TINT - 10 gm (0.35 Oz)
Shea Butter, Almond, Rose & Saffron

No Harsh Chemicals, No Animal Testing, Free from Mineral Oil, Alcohol, Paraben or Sulphates
Highlights
SUPPLE & KISSABLE: Shea butter & almond oils boost collagen, deeply nourish & hydrate chapped lips, heal them, restore their natural cellular structure. 

PINK STAIN 

: Rose oil & saffron are known to naturally lighten dark dull color of lips to natural healthy glossy pink shade making your lips look young inside out without any artificial makeup.
Handcrafted with natural & organic ingredients.
Enriched with Rose Essentials, Shea Butter, Almond & Saffron
Description
PINK STAIN - A premium personal care, handmade tinted lip moisturizing formulation crafted with natural & organic ingredients "Plushy Pout" 
Beautifully packed this natural pink cake surely will find its place in your handbag as your daily travel partner. Infused with exquisite luxurious rose oils & saffron, this lip balm helps you achieve those glowing pink baby like lips naturally. Rose oil is known to be an excellent toner, anti-inflammatory & anti-ageing agent whereas saffron has long history vouched by many studies from ancient times proving it to be a complexion stimulator thus lightens dull coloured decaying chapped lips into a bloomy kissable pout. Shea & almond oil need no detailed introduction for their deep moisturization properties, as it is a well-known fact that lips can't produce natural oil to nourish themselves so we ensured this jewel does the needful with these two premium oils from mother nature, making your lips buttery smooth & soft.
Ingredients
Essential oils of organic roses, organic Shea butter, organic cocoa butter, pure organic aloe vera gel, organic coconut oil, organic sweet almond oil, cruelty free bees- wax (certified), organic essential oil of vanilla blended with dried beetroot powder & saffron for colour.
Directions
Apply Lip balm in required quantity with clean finger or with gloss brush. For a Matte finish, dab with a tissue. Patch test recommended before use. Store in a cool & dark place.
Safety & Storage
Store in a cool & dry place. Patch test recommended.
Shelf life of this product is 24 months from the date of manufacturing
Patch test recommended information given here is generic, has not been evaluated by Food and Drug Administration. This information is not intended to diagnose, cure, treat or prevent any disease, please consult an expert for any medical condition.