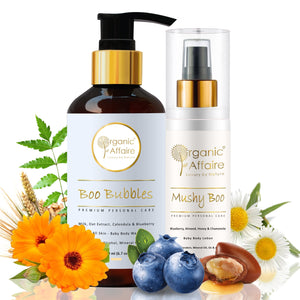 Daily Baby Care Combo – Baby Body Wash & Baby Body Lotion
Sale price Price Rs. 611.00 Regular price Rs. 694.00
Contents: Pack of 2
1 x Boo Bubbles - Tear Free, Top to Toe - Baby Body Wash 100ml
1 x Mushy Boo - All-Skin - Baby Body Lotion 100ml
Shea Butter, Chamomile, Jojoba, Almond Oil, Blueberry, Orange & Lemon Extracts
No Harsh Chemicals, No Animal Testing, Free from Mineral Oil, Alcohol, Paraben or Sulfates
Highlights
Baby Wash: A tear free, top to toe body wash, enriched with Blueberry, Oat Extracts, Calendula & Neem essentials known for their natural anti-bacterial properties helps inducing natural protection. Almond, Jojoba Oil & Coconut butter help in retaining skin's natural moisturization.is a head to toe baby nourishing deep body massage oil, crafted with certified 
Baby Lotion: Infused with Jojoba and Shea butter known to be excellent natural skin moisturizers helps maintaining baby's soft and supple skin nourished & moisturized, while chamomile & blueberry are known to be rich in anti-oxidants, helpful with preventing baby rashes & itching.
For Adults Too: Being baby safe products, these are ideal moisturization & body hygiene choice for adults too, especially those having sensitive to normal skin.
Description
"Boo Bubbles" baby body wash is a mild tear free head to toe therapy that gently cleans your baby's delicate skin & hair, helps retain skin's natural moisturization along with your loved one's daily hygiene. Infused with citrusy extracts like orange & lemon not only ensures natural germ & anti-bacterial protection for your baby but also act as mood up-lifter i.e. babies enjoy bathing, feel fresh and energized. While crafting Boo Bubbles baby body wash Organic Affaire also considered the "Convenience" factor i.e. being a head to toe body wash it can safely be used as a baby shampoo too. To maintain that extra gentleness for your loved one, body wash has intentionally been kept non-emulsified i.e. in a mild liquid state rather than in a synthetic creamy or gel base. Synthetic emulsifiers are chemicals used to give thick creamy & gel like texture to a product but with Organic Affaire's Boo Bubbles baby wash you make no such compromises and stay assured that your younger one gets the best.
"Mushy Boo" baby body lotion for kids is infused with chamomile essentials & blueberry extracts hence naturally enriched with anti-inflammatory properties, known to be effective against diaper rashes & skin allergies. Infused with Jojoba oil & Shea butter makes it tailor fitted for your little one's daily moisturization requirements especially to those looking for a baby lotion for dry skin. Product has been kept mild enough to be used across all seasons making it an ideal baby lotion for summers.
Ingredients
Baby Body Wash: lemon, orange, saponified almond oil, jojoba oil, organic corn oil, organic castor oil, organic neem oil, vitamin E, glycerine, certified shea butter, organic coconut milk, coconut butter, demineralised water & Salinatural TCLS Natural Preservative. Vegetable based organic contents only
Baby Body Lotion: Essential Oil Of Chamomile, Blueberry, Lavender, Shea Butter, Jojoba Oil, Organic Aloe Vera, Organic Sunflower Oil, Wheat Germ Oil, Safe Emulsifier, Demineralized Water, Vitamin E, Vanilla, Glycerin And Organic Lemon & Salinatural TCLS Natural Preservative.
Directions
Baby Body Wash: Create lather on your palm by taking required quantity, gently massage the baby's body, rinse thoroughly. Avoid contact with eyes. Patch test recommended before use.
Baby Body Lotion: Apply required quantity on the baby's body & massage gently.  Avoid contact with eyes. Patch test recommended before use.
Safety & Storage Information
Store in a cool & dry place. Not to be eaten or swollen, patch test recommended, avoid contact with eyes.
Shelf life of this product is 36 months from the date of manufacturing
Patch test recommended information given here is generic, has not been evaluated by Food and Drug Administration. This information is not intended to diagnose, cure, treat or prevent any disease, please consult an expert for any medical condition. 

Customer Reviews
09/14/2021
leena s.

India
Nice deal!
This is really a nice combo I anyways use to buy these products individually from Amazon and figured out more discounts + rewards on ordering from the brand's website directly hahaha who doesn't wants to save more lol. Thank you so much Organic Affaire keep showering the discounts :)
07/28/2021
Aman W.

India
value for money
This combo is really a super saver combined with discount coupon and rewards, love it! Thanks brand..